Reference projects using HAVER Architectural Mesh
As we all know, a picture is worth a thousand words. Therefore, it is best to form your own picture of our diverse wire meshes - and let yourself be inspired by projects that have already been implemented. Each of them contains all the expertise from hundreds of projects and more than 130 years of experience in the production and processing of wire mesh. Always with the aim of achieving the best result for our customers.
In our extensive and well-stocked reference overview, you will find many successfully completed projects using HAVER Architectural Mesh. Convince yourself of the variety of applications and the quality of our wire mesh and let the projects we have already completed show you the high standards of our work.
Al Naeem Mall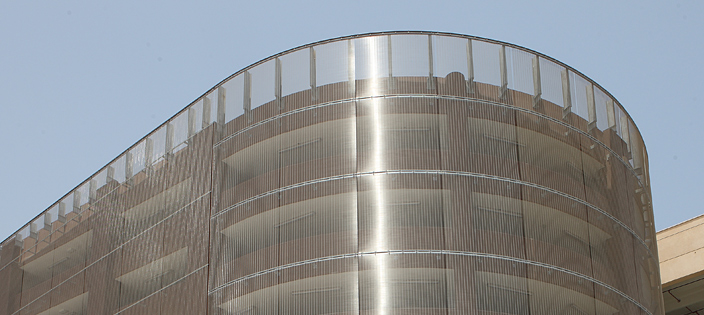 The car park of the "Al Naeem" shopping mall in Ras Al Khaimah is clad with stainless steel woven wire mesh type DOKA-BARRETTE 8914.

DOKA-BARRETTE is an amended version of the better known MULTI-BARRETTE cable mesh. Here the vertical cables are replaced by solid round wires, which lend more stiffness to the mesh. This characteristic is important to realize the round mesh construction in the areas of the ramps at the Al Naeem Mall car park.

In total HAVER & BOECKER supplied 2250 m² of ready-to-install panels and supported the local contractor during the installation.
City
Ras Al Khaimah, United Arab Emirates
Application
façade, falling protection
Object Type
parking garages
Architect
Project Sheet