Reference projects using HAVER Architectural Mesh
As we all know, a picture is worth a thousand words. Therefore, it is best to form your own picture of our diverse wire meshes - and let yourself be inspired by projects that have already been implemented. Each of them contains all the expertise from hundreds of projects and more than 130 years of experience in the production and processing of wire mesh. Always with the aim of achieving the best result for our customers.
In our extensive and well-stocked reference overview, you will find many successfully completed projects using HAVER Architectural Mesh. Convince yourself of the variety of applications and the quality of our wire mesh and let the projects we have already completed show you the high standards of our work.
Halifax Int'l Airport Parkade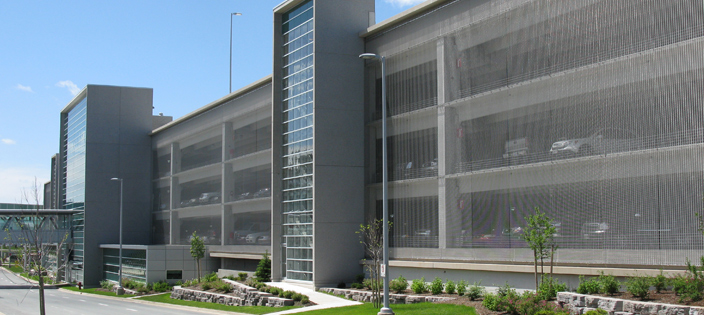 The car park of this Canadian airport is covered with a architectural mesh, which coincides with "woven" concrete facades.

The 5-level, 2,300-space Parkade at the Halifax Stanfield International Airport features 1,900 public parking spaces and 400 spaces for rental cars.

The east and west facades of the car park are clad with a woven wire mesh facade (type DOGLA-TRIO 1010). 108 mesh elements covering an area exceeding 3,800 m² were fabricated by HAVER & BOECKER and shipped across the ocean to the Canadian province Nova Scotia. The standard length of the elements is 12,430 mm, the width is 3,040 mm.

The attachment system consists of flat tension profiles with clevis bolts. Additional tension springs allow for a consistent tensioning. For this projects the springs are added at the top in a less visible area of the facade.

A key feature of this car park is the combination of woven wire at the east and west facade with "woven" concrete at the north- and south elevations.
City
Halifax, Canada
Application
façade, falling protection
Object Type
parking garages
Architect
Wire Mesh
Project Sheet