Reference projects using HAVER Architectural Mesh
As we all know, a picture is worth a thousand words. Therefore, it is best to form your own picture of our diverse wire meshes - and let yourself be inspired by projects that have already been implemented. Each of them contains all the expertise from hundreds of projects and more than 130 years of experience in the production and processing of wire mesh. Always with the aim of achieving the best result for our customers.
In our extensive and well-stocked reference overview, you will find many successfully completed projects using HAVER Architectural Mesh. Convince yourself of the variety of applications and the quality of our wire mesh and let the projects we have already completed show you the high standards of our work.
Exhibition Málaga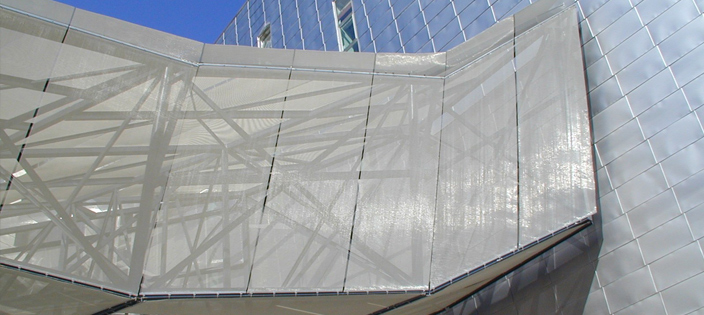 Like a fish in the waves of an ocean - inspired by this Mediterranean concept, architect Angel Assenjo created the Exhibition and Congress Centre in Malaga.

Build over a period of approx. four years, this magnificent building now boasts over 62,000 square meters of exclusive space for exhibitions, conferences, restaurants and other functions.

The eye-catching feature of this building is the vast canopy on the main sea front facade It provides effective sun protection and with its wave-shape perfectly continues the architectural concept Over 130 meters in length and 20 meters wide, approx. 400 wire cloth elements of differing formats and geometries cover the surface area of over 5,500 square meters.

Made from DOKA-MONO 1601 the lengths of the single trapezoidal elements vary from one to 25 meters They are attached to the framework using the HAVER & BOECKER tension profile and clevis screw system.

HAVER & BOECKER conducted on-site measuring, manufacturing and fabrication, thus guaranteeing that every single element was precisely tailored and tensioned. The delivery to site and the support of the installation by the HAVER & BOECKER team secured a smooth and on time installation.
City
Malaga, Spain
Application
façade, ceiling, sun protection
Mesh Type
Architect
Project Sheet