Reference projects using HAVER Architectural Mesh
As we all know, a picture is worth a thousand words. Therefore, it is best to form your own picture of our diverse wire meshes - and let yourself be inspired by projects that have already been implemented. Each of them contains all the expertise from hundreds of projects and more than 130 years of experience in the production and processing of wire mesh. Always with the aim of achieving the best result for our customers.
In our extensive and well-stocked reference overview, you will find many successfully completed projects using HAVER Architectural Mesh. Convince yourself of the variety of applications and the quality of our wire mesh and let the projects we have already completed show you the high standards of our work.
ENSTA – ParisTech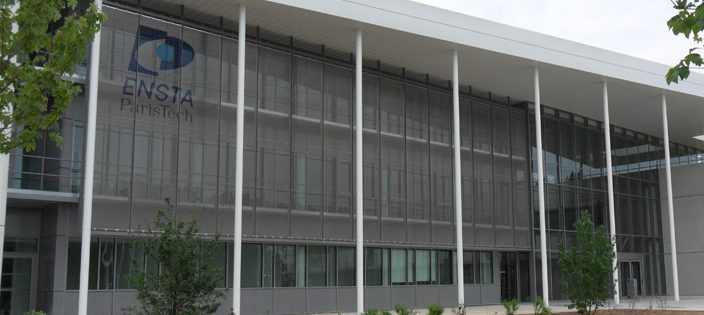 A new school building was erected at the Boulevard des Maréchaux in Palaiseau with an architectural wire mesh façade.

A highlight of the façade is the logo of the school which was painted on the stainless steel façade. In total 350 m² of wire mesh EGLA-MONO 4211 were produced by HAVER & BOECKER. The flat surface on one side of the EGLA-MONO creates a reflection across the full plane. The special crimps lend the material stability and robustness.The wire mesh façade do not just enhances the façade it also acts as an effective sun screen.

The "École Nationale Supérieure de Techniques Avancées" enjoys a special position in the French educational system and it belongs to the foremost schools of engineering in the country. Since 2008 the school ENSTA became of the Paris Institute of Science and Technology – ParisTech – an association of several Parisian grandes écoles.

ENSTA ParisTech offers its students a broad education in engineering with the aim of enabling them to design, carry out and manage complex technical projects while meeting economic constraints in an international environment.
City
Palaiseau, France
Application
façade, sun protection, coloring
Object Type
educational institutions
Gewebe
Project Sheet