Reference projects using HAVER Architectural Mesh
As we all know, a picture is worth a thousand words. Therefore, it is best to form your own picture of our diverse wire meshes - and let yourself be inspired by projects that have already been implemented. Each of them contains all the expertise from hundreds of projects and more than 130 years of experience in the production and processing of wire mesh. Always with the aim of achieving the best result for our customers.
In our extensive and well-stocked reference overview, you will find many successfully completed projects using HAVER Architectural Mesh. Convince yourself of the variety of applications and the quality of our wire mesh and let the projects we have already completed show you the high standards of our work.
Hangar 7 - Flughafen Düsseldorf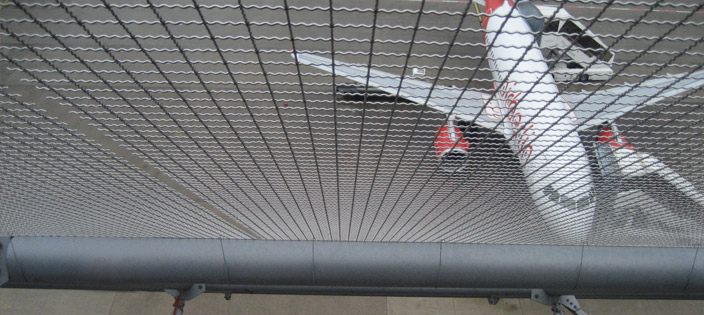 Zwischengewelltes Architekturgewebe sorgt für die Entstörung von Radarstrahlen am Flughafen Düsseldorf.

Technik und Architektur im Einklang

Die Deutsche Flugsicherung fordert für Neubauten, wie dem Hangar 7 am Flughafen Düsseldorf, dass die Radar- und ILS Verträglichkeit (ILS = Instrument Landing System) geprüft wird. Radarverschattungen und Reflexionsstörungen an diversen Anlagen müssen vermieden werden. Bei der Bewertung werden unter anderem die Höhen der Flugstrecken und die Anflug- und Gleitwege der Flugzeuge sowie die Architektur der Flugzeughalle berücksichtigt.

Sollten Störpotenziale vorliegen, ist eine entsprechende Entstörplanung zu erarbeiten. Ein Gutachten für den Hangar 7 hat ergeben, dass die Halle einem Radarsystem zugewandt ist und somit radarrelevant ist.

Zur Entstörung wurde eine 45 Grad geneigte Gittermarkise eingeplant, die aus Drahtgewebe hergestellt wurde. Die Radarwellenlänge bestimmt die Gewebespezifikation bzw. die einzusetzende Maschenweite. Hierauf basierend wurde der Gewebetyp DOKAWELL-MONO 3751 ausgewählt und verbaut.

HAVER & BOECKER lieferte 87 Elemente in der Abmessung 13.485 x 2380 mm und übernahm auch die Montage der Gewebeelemente, die mittels Flachspannkante und Gabelschrauben gespannt wurden. Die Zwischenanbindungen wurden mit Drahtbiegeteilen an Rundrohren realisiert.

Architekturdrahtgewebe von HAVER & BOECKER überzeugen nicht nur optisch, sondern kann auch viele technische Anforderungen erfüllen. Am Hangar 7 steht die Technik im Vordergrund - durch die Auswahl von entsprechenden Gewebetypen werden Gebäude aber auch optisch enorm aufgewertet.
City
Düsseldorf, Deutschland
Application
Fassade, elektromagnetische Abschirmung
Object Type
Flughäfen / Bahnhöfe
Gewebe
Project Sheet