Reference projects using HAVER Architectural Mesh
As we all know, a picture is worth a thousand words. Therefore, it is best to form your own picture of our diverse wire meshes - and let yourself be inspired by projects that have already been implemented. Each of them contains all the expertise from hundreds of projects and more than 130 years of experience in the production and processing of wire mesh. Always with the aim of achieving the best result for our customers.
In our extensive and well-stocked reference overview, you will find many successfully completed projects using HAVER Architectural Mesh. Convince yourself of the variety of applications and the quality of our wire mesh and let the projects we have already completed show you the high standards of our work.
Crêche Roquebrune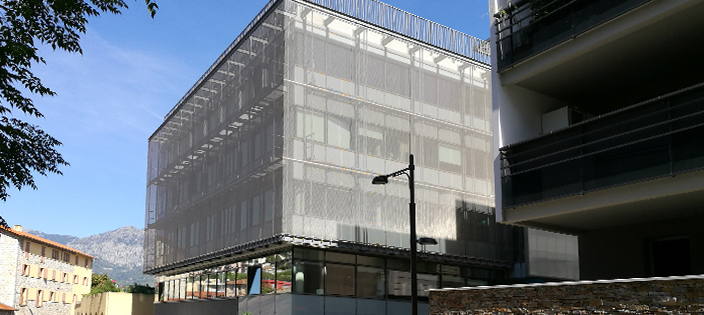 HAVER Architectural Mesh open up a wide range of design possibilities for facades and combine aesthetics with functionality.
The new building in Roquebrune-Cap-Martin, France, was clad with HAVER Architectural Mesh EGLA-TWIN 4253. This wire mesh is characterized by its smooth flat surface on one side, which reflects light homogenously. With an open area of 61 % and a horizontal mesh pattern, the mesh is suitable as an effective sun protection. At the same time, the semi-transparent stainless steel mesh maintains the look of the building from both inside and outside.

Haver & Boecker supplied a total of 12 ready-to-install mesh elements for the facade cladding, including fastening technology.

City
Roquebrune-Cap-Martin, France
Application
façade, sun protection
Object Type
housing
Mesh Type
Architect
Project Sheet