Reference projects using HAVER Architectural Mesh
As we all know, a picture is worth a thousand words. Therefore, it is best to form your own picture of our diverse wire meshes - and let yourself be inspired by projects that have already been implemented. Each of them contains all the expertise from hundreds of projects and more than 130 years of experience in the production and processing of wire mesh. Always with the aim of achieving the best result for our customers.
In our extensive and well-stocked reference overview, you will find many successfully completed projects using HAVER Architectural Mesh. Convince yourself of the variety of applications and the quality of our wire mesh and let the projects we have already completed show you the high standards of our work.
Schulhaus Preisegg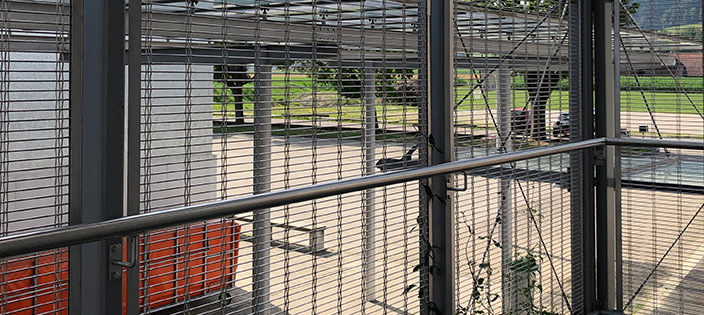 Treppenhausverkleidung mit HAVER Architekturgewebe
Architekturgewebe verleihen Brüstungen und Geländerfüllungen trotz ihrer Stabilität eine gewisse Leichtigkeit und textile Eleganz. So auch dem außenliegenden Treppenhaus einer Schule im schweizerischen Preisegg. Das Architekturbüro Huber Kuhn Ringli Architekten GmbH ließ das außenliegende Treppenhaus mit dem Edelstahlgewebe DOGLA-TRIO 1030 verkleiden. Als sehr eigenstabiles Drahtgewebe ist es mit einer offenen Fläche von 75 % bestens für den Einsatz als Absturzsicherung geeignet.

110 m² in 9 einbaufertigen Drahtgewebeelementen inklusive Spanntechnik lieferte Haver & Boecker für dieses Projekt in die Schweiz.

City
Preisegg, Schweiz
Application
Brüstung, Absturzsicherung, Fassade
Object Type
Bildungseinrichtungen
Mesh Type
Architect
Huber Kuhn Ringli Architekten GmbH
Project Sheet