Reference projects using HAVER Architectural Mesh
As we all know, a picture is worth a thousand words. Therefore, it is best to form your own picture of our diverse wire meshes - and let yourself be inspired by projects that have already been implemented. Each of them contains all the expertise from hundreds of projects and more than 130 years of experience in the production and processing of wire mesh. Always with the aim of achieving the best result for our customers.
In our extensive and well-stocked reference overview, you will find many successfully completed projects using HAVER Architectural Mesh. Convince yourself of the variety of applications and the quality of our wire mesh and let the projects we have already completed show you the high standards of our work.
Gewerbehaus Urdorf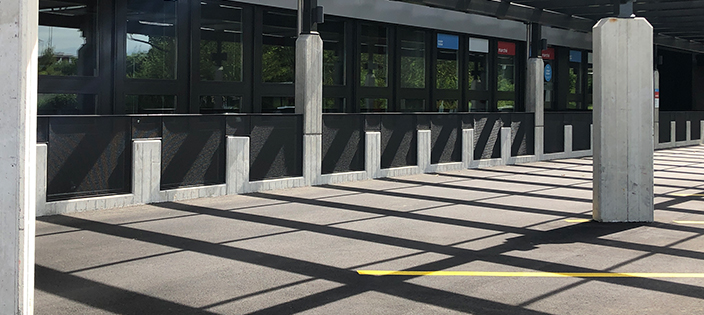 Brüstung aus HAVER Architekturgewebe
HAVER Architekturgewebe bieten als Absturzsicherung und Brüstungsfüllung eine edle Optik und erfüllen höchste Ansprüche an Sicherheit und Stabilität. Je nach Einsatzzweck stehen unterschiedliche Gewebearten und Legierungen zur Verfügung, die besonders unempfindlich gegenüber Witterungseinflüssen und mechanischen Einwirkungen sind.

Im schweizerischen Urdorf wurden lackierte Edelstahlgewebe des Typs DOKA-MONO 1601 als Geländerfüllung eingesetzt. Die rundum gekanteten Gewebeelemente inklusive Ausklinkung sind in Rahmen verbaut und verleihen trotzt ihrer Stabilität der Brüstung eine textile Eleganz.

City
Urdorf, Schweiz
Application
Brüstung, Farbgestaltung
Object Type
Büro- / Geschäftshäuser
Mesh Type
Architect
Project Sheet