Reference projects using HAVER Architectural Mesh
As we all know, a picture is worth a thousand words. Therefore, it is best to form your own picture of our diverse wire meshes - and let yourself be inspired by projects that have already been implemented. Each of them contains all the expertise from hundreds of projects and more than 130 years of experience in the production and processing of wire mesh. Always with the aim of achieving the best result for our customers.
In our extensive and well-stocked reference overview, you will find many successfully completed projects using HAVER Architectural Mesh. Convince yourself of the variety of applications and the quality of our wire mesh and let the projects we have already completed show you the high standards of our work.
66 Logements à Reims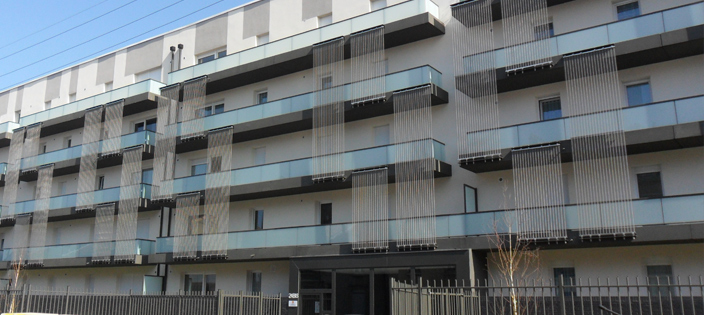 Dass Architekturgewebe nicht nur funktional, sondern auch dekorativ sind, erkannten auch die PACE Architekten aus Frankreich. Sie setzten das Edelstahlgewebe DOKA-BARRETTE 8914 als reines Dekorationselement an einem Wohnhaus in der französischen Stadt Reims ein.

Dabei spannten sie die 1,50 m breiten und in unterschiedlichen Längen gewebten Bahnen jeweils über ein bis zwei Geschosse zwischen der ersten bis zur dritten Etage.

Dabei ergibt sich ein nützlicher Nebeneffekt. Denn die 3 m bis 5 m langen Gewebebahnen reflektieren die Sonnenstrahlen und filtern das Sonnenlicht. So entstehen kleine Sonnenschutzflächen an den Balkonen der einzelnen Wohneinheiten.

Für die gesamte Fassade lieferte HAVER & BOECKER insgesamt 474 m² Architekturdrahtgewebe in 70 konfektionieren Gewebebahnen inklusive des Befestigungssystem aus Spannkanten, Druckfedern und Gabelkopfschrauben.
City
Reims, Frankreich
Application
Fassade, Sonnenschutz
Object Type
Wohnungsbau
Architect
PACE Architects
Project Sheet