Reference projects using HAVER Architectural Mesh
As we all know, a picture is worth a thousand words. Therefore, it is best to form your own picture of our diverse wire meshes - and let yourself be inspired by projects that have already been implemented. Each of them contains all the expertise from hundreds of projects and more than 130 years of experience in the production and processing of wire mesh. Always with the aim of achieving the best result for our customers.
In our extensive and well-stocked reference overview, you will find many successfully completed projects using HAVER Architectural Mesh. Convince yourself of the variety of applications and the quality of our wire mesh and let the projects we have already completed show you the high standards of our work.
Levitt Pavilion Denver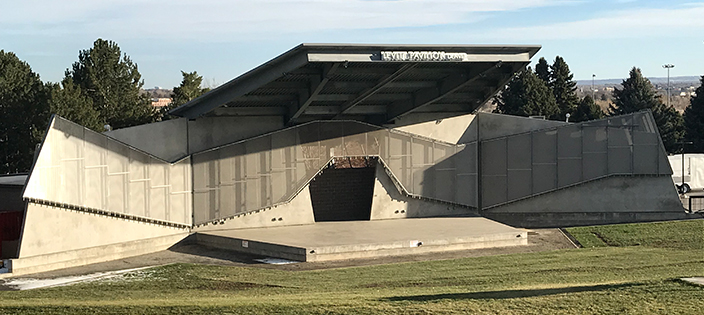 Venue for concerts is clad with HAVER Architectural Mesh.

In Denver, the capital of Colorado, you can find the seventh Levitt Pavilion in the United States. The Levitt Pavilion is part of a growing family of outdoor Levitt music venues and concert sites across America, founded by the "Mortimer & Mimi Levitt Foundation". The private family foundation was established in 1963 by Mortimer and Mimi Levitt to support arts, culture and education.

The Levitt Pavilion is located within the 88 acres Ruby Hill Park in southwest Denver. In addition to a hilltop shelter, picnic areas and playgrounds, the Levitt Pavilion in particular should contribute to the revitalization of the park. The state-of-the-art amphitheater host 50 free concerts per year consisting of local, regional, national and international acts. Outside of the concert series, the amphitheater of the Levitt Pavilion Denver is available to schools, art organizations, external organizers and other non-profit organizations.

Wire mesh cladding with HAVER Architectural Mesh
The venue's architecture is extraordinary. It is as distinctive and versatile as the numerous artists who perform on its stage. The 1.500 square meter stage of the shaped-angled pavilion is flanked by a screen backdrop of metal mesh. The architecture firm "studiorope" chose for it the HAVER Architectural Mesh EGLA-MONO 4391. Due to the smooth surface, the wire mesh type EGLA-MONO has a particularly flat appearance.

All in all 39 wire mesh elements with different geometries clad 215 square meter of the screen backdrop. The mesh elements were mounted to the pavilion using the proven mounting system consisting of flat tension profiles, clevis bolts and pressure springs. The tension mechanism was adjusted to the conditions in such a way that the angular sides of the mesh elements could be bordered and tensioned accordingly.
City
Denver, United States of America
Application
façade
Object Type
cultural/ convention centers
Mesh Type
Architect
Project Sheet