Reference projects using HAVER Architectural Mesh
As we all know, a picture is worth a thousand words. Therefore, it is best to form your own picture of our diverse wire meshes - and let yourself be inspired by projects that have already been implemented. Each of them contains all the expertise from hundreds of projects and more than 130 years of experience in the production and processing of wire mesh. Always with the aim of achieving the best result for our customers.
In our extensive and well-stocked reference overview, you will find many successfully completed projects using HAVER Architectural Mesh. Convince yourself of the variety of applications and the quality of our wire mesh and let the projects we have already completed show you the high standards of our work.
Domain 8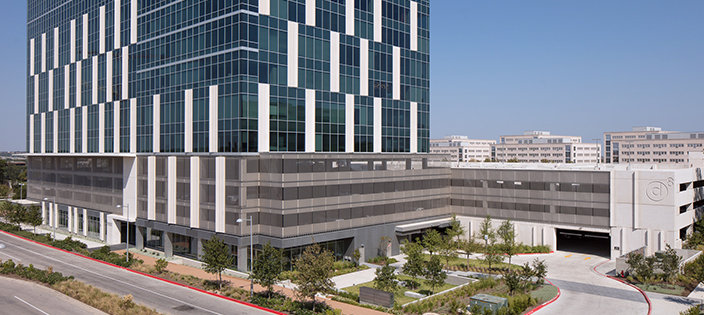 Car park cladding with HAVER Architectural Wire Mesh
The property for "The Domain" was purchased in 1999 and opened its first 65.000 m². space featuring offices, high-end retail stores, apartments and hotel spaces. The space was reclaimed from old IBM Manufacturing and administrative buildings. The strategy when proposing "The Domain" was to create a "second downtown" for Austin, Texas while increasing employee productivity through proximity to surrounding amenities.
The 8th building in the Domain was reconstructed in 2017. Domain 8 features almost 28.000 m² of office and retail space which houses offices for both tech giants, Amazon and Facebook. The 12 story building also features on-site parking at a 3.7:1000 ratio.
The buildings parking garage features 1600 m² of Architectural Wire Mesh from Haver & Boecker. Wire mesh facades are a favorable choice for parking garages due to the long-life span of stainless steel and the optimal ventilation they offer to the garage. To the fit eloquent aesthetic of the building, 30-foot-high panels of DOKAWELL-MONO 3601 of various widths were installed. All panels were equipped with the standard mounting system, a flat tension profile with clevis bolts.
Not only do the panels offer ventilation, solar protection and fall prevention, the panels also add a striking architectural element to the Domain's first true large-scale office tower. The mesh offers excellent light reflecting properties while still offering great views from inside the garage.


Photos: © Paul Bardagjy
City
Austin, United States of America
Application
façade, building redevelopment, falling protection
Object Type
parking garages, office buildings
Mesh Type
Architect
Project Sheet