Reference projects using HAVER Architectural Mesh
As we all know, a picture is worth a thousand words. Therefore, it is best to form your own picture of our diverse wire meshes - and let yourself be inspired by projects that have already been implemented. Each of them contains all the expertise from hundreds of projects and more than 130 years of experience in the production and processing of wire mesh. Always with the aim of achieving the best result for our customers.
In our extensive and well-stocked reference overview, you will find many successfully completed projects using HAVER Architectural Mesh. Convince yourself of the variety of applications and the quality of our wire mesh and let the projects we have already completed show you the high standards of our work.
Bakersfield College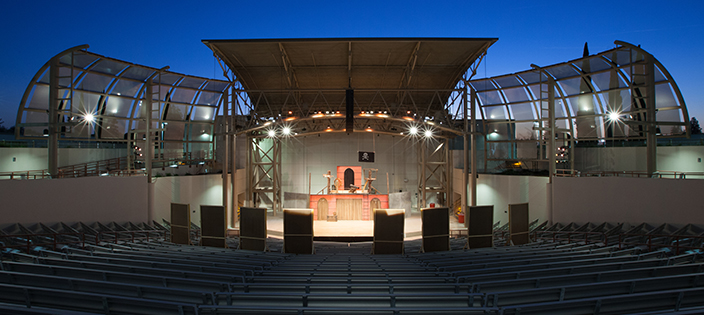 Located in California, Bakersfield College was founded in 1913 and is one of the nation's oldest continually operating community colleges. The college serves over 20,000 students on the 153- acre main campus in northeast Bakersfield.

The Mandate
The college wanted to modernize their 30,290 square foot auditorium under a community bond program. They chose the IBI Group, Architecture Planning, to completely redesign the facility into a Performing Arts Center that would include a new entry, reception, classrooms, and the remodeling of the 450 theatre seats.

The Challenge
The outdoor amphitheater features a covered stage which requires surrounding shade structures for flawless visual screening. The IBI Group needed to find a shading material that was durable, while still allowing for maximum airflow and sun protection during performances in the amphitheater.

The Solution
After multiple design concepts, and with the help of Haver & Boecker Architectural Experts, it was clear that wire mesh <link _top architectural mesh largo-plenus>LARGO-PLENUS 2027 was the best solution for the amphitheater. These HAVER Architectural Mesh panels would achieve the desired visual screening, offer efficient air circulation, and provide effective <link _top protection with architectural>solar protection during performances. Not only are the structures visually appealing, they are also made from stainless steel, which lasts for decades with just a simple cleaning process.

The architectural team engineered a custom solution including non-standard stainless steel hardware, which allowed them to roll the panels through 3 – 4 redirections. A fully engineered mounting system was used with flat tension profile, clevis assembly and pressure springs for attaining proper installation tension.

The Result
The project was a complete success. It received the California, CCFC 2015 Award of Honor (Community College Facility Coalition). The College personnel, The IBI Group Architects and the Haver & Boecker Architectural Team are incredibly proud of the collaboration.


Photos: © 2017 The IBI Group Architecture Planning
City
Bakersfield, United States of America
Application
façade, sun protection
Object Type
educational institutions
Mesh Type
Architect
Project Sheet