Reference projects using HAVER Architectural Mesh
As we all know, a picture is worth a thousand words. Therefore, it is best to form your own picture of our diverse wire meshes - and let yourself be inspired by projects that have already been implemented. Each of them contains all the expertise from hundreds of projects and more than 130 years of experience in the production and processing of wire mesh. Always with the aim of achieving the best result for our customers.
In our extensive and well-stocked reference overview, you will find many successfully completed projects using HAVER Architectural Mesh. Convince yourself of the variety of applications and the quality of our wire mesh and let the projects we have already completed show you the high standards of our work.
One Arlington Apartments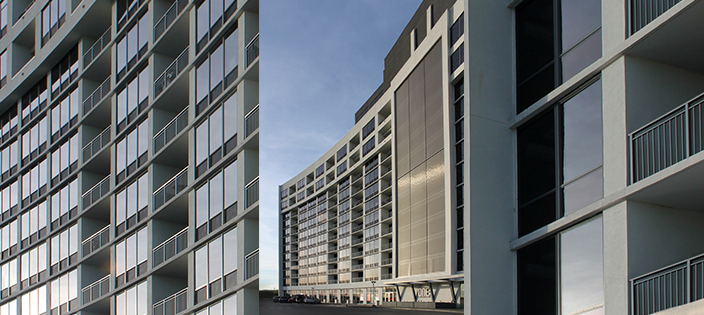 The art of revitalization with HAVER Architectural Mesh

Located next to the Arlington International Racecourse in Illinois, The Arlington Downs development is designed with an urban feel. One Arlington Apartments sits 13 stories high on the development, offering 214 luxury apartment units to Chicago's Northwest Suburbs.

The Mandate
One Arlington Apartments was once the home of Sheraton Chicago Northwest hotel. With the help of the architects at Pappageorge Haymes Partners, the old shuttered hotel was revitalized into a lively apartment building.

The Challenge
The architects needed a breathable system to screen several mechanical louvers on the front of the building. The system needed to fit their design intent while still meeting open area requirements for the mechanical systems.

Solution
Haver & Boecker was able to meet all requirements for the One Arlington project with their wire mesh. HAVER Architectural Mesh offered a system with reduced visible anchors and seems between panels, while also being able to provide woven panels large enough to cover 3,200 square feet. Combined with meeting the opening requirements for the building, HAVER Architectural Wire Mesh was the perfect design solution.
To reduce visual transparency from the street but still allow for direct airflow, the architects decided to use the very versatile wire mesh <link _top mesh egla-twin>EGLA-TWIN 4253. With its smooth flat surface on one side which reflects light homogenously and an open area of 51 %, this stainless steel mesh is very popular as a filigree textile outer skin on Façades.
The Result
The mesh adds an attractive integration into the building design and the collaboration was a complete success.


Photos: © 2017 Pappageorge Haymes Partners
City
Arlington Heights, Illinois, United States of America
Application
façade, building redevelopment
Object Type
restaurants / hotels
Mesh Type
Architect
Project Sheet