Reference projects using HAVER Architectural Mesh
As we all know, a picture is worth a thousand words. Therefore, it is best to form your own picture of our diverse wire meshes - and let yourself be inspired by projects that have already been implemented. Each of them contains all the expertise from hundreds of projects and more than 130 years of experience in the production and processing of wire mesh. Always with the aim of achieving the best result for our customers.
In our extensive and well-stocked reference overview, you will find many successfully completed projects using HAVER Architectural Mesh. Convince yourself of the variety of applications and the quality of our wire mesh and let the projects we have already completed show you the high standards of our work.
Dealer Tire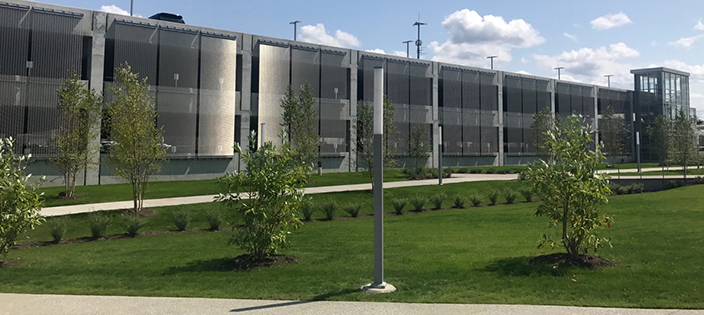 Turning ordinary parking into extraordinary spaces.

In 2016 Dealer Tire LLC made the decision to relocate to a new headquarters in Cleveland, Ohio. The privately held company provides tools and services to over 10,000 car dealers and over two dozen automotive brands, and is also one of America´s largest tire distributors. The move included the intensive renovation of a long empty historic structure in Midtown Cleveland – Victory Center.
When looking for a new location, Dealer Tire was seeking a place that was loft style but had an industrial atmosphere to echo the company's aesthetic. Victory Center, a four story H-shaped building, had been vacant for more than a year after a state assisted renovation project and proved to be the perfect location for the new Headquarters. One of Dealer Tire's requirements when seeking a new Headquarters was parking availability for both employees and visitors. The lot at Victory Center offered enough room for a 650-space parking garage to be built, and this is where W.S. Tyler stepped in to help.
Car park cladding with HAVER Architectural Mesh
Working directly with the architects from Vocon, W.S. Tyler - the American daughter company of Haver & Boecker - was able to solve a few of the parking garage's challenges with their Architectural Mesh. The architects needed a material that could act as a security barrier while still maintaining the required open area for natural ventilation on the garage. The material needed to be cost effective and be able to cover a very large amount of space. Vocon had already considered the possibility of using wire mesh and came to W.S. Tyler right away because they were a local company who was extremely responsive and knowledgeable.
For the Dealer Tire project, the HAVER Architectural Mesh DOGLA-TRIO 1011 was used. The architects were very pleased with W.S. Tyler's knowledge and ability to narrow down the mesh options to fit their needs and requirements. A standard tensioning system was used with flat tension profiles, clevises and springs. One of the most beautiful features of using wire mesh on a building is the effect the sunlight and angle of view have on its appearance. The mesh will look entirely different depending on where you are standing when looking up at the building and what time of day it is.
The new Dealer Tire Headquarters opened its doors in April of 2017. The new building, combined with the mesh on the parking garage, was a beautiful addition to the thriving Cleveland area. Vocon says that W.S. Tyler was a great and responsive partner to work with during the design and detailing process. The tenant is now considering illuminating some of the panels on the main side of the building to showcase the beautiful wire mesh even more.
City
Cleveland, Ohio, United States of America
Application
façade, falling protection
Object Type
parking garages
Mesh Type
Architect
Project Sheet