Reference projects using HAVER Architectural Mesh
As we all know, a picture is worth a thousand words. Therefore, it is best to form your own picture of our diverse wire meshes - and let yourself be inspired by projects that have already been implemented. Each of them contains all the expertise from hundreds of projects and more than 130 years of experience in the production and processing of wire mesh. Always with the aim of achieving the best result for our customers.
In our extensive and well-stocked reference overview, you will find many successfully completed projects using HAVER Architectural Mesh. Convince yourself of the variety of applications and the quality of our wire mesh and let the projects we have already completed show you the high standards of our work.
Parking Garage Obilicev Venac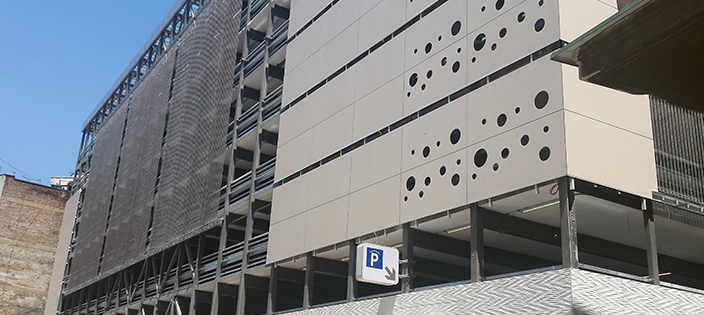 Car park cladding with HAVER Architectural Mesh
Stainless steel wire mesh is also used in the car park architecture to transform the functional buildings into well-lite design objects. Both indoor and outdoor HAVER Architectural Mesh stands out due to an elegent appearance, and in doing so meets the highest demands of safety, stability and weather resistance. Stainless steel wire mesh ensures a bright atmosphere that brings together transparency and design in a unique way.

The public parking garage Obilicev Venac in the exposed city center of Belgrade also relies on woven wire mesh from Haver & Boecker. The parking garage was reopened on the first of July 2017, after a twelve-month renovation. The car park with its 804 parking spaces is located in the eponymous street Obilicev Venac next to the pedestrian zone of Knez Mihailova Street. The buidling is the perfect choice for those who are looking for a parking lot and a relaxing day at one of the nearby cafes or for a walk across the Kalemegdan Park.

The Obilicev Venac parking garage is one of the first green car parks with LEED certificate in Belgrade. Besides the façade cladding made of stainless steel wire mesh type MULTI-BARRETTE 8301 from Haver & Boecker, the car park has received varoius features such as sun collectors, charging stations for electric vehicles and motion sensors for the LED light. In addition to 970 m² of stainless steel mesh, the façade of the parking garage was designed with vertical slats in the roof area as well as with colored and perforeated fiber cement penals.

Haver & Boecker supplied in total 40 ready-to-install wire mesh elements for the façade cladding including the proven mounting system.
City
Belgrade, Serbia
Application
façade, building redevelopment, falling protection
Object Type
parking garages
Mesh Type
Architect
Miroslav Stefanovic
Project Sheet