Reference projects using HAVER Architectural Mesh
As we all know, a picture is worth a thousand words. Therefore, it is best to form your own picture of our diverse wire meshes - and let yourself be inspired by projects that have already been implemented. Each of them contains all the expertise from hundreds of projects and more than 130 years of experience in the production and processing of wire mesh. Always with the aim of achieving the best result for our customers.
In our extensive and well-stocked reference overview, you will find many successfully completed projects using HAVER Architectural Mesh. Convince yourself of the variety of applications and the quality of our wire mesh and let the projects we have already completed show you the high standards of our work.
Library Ourense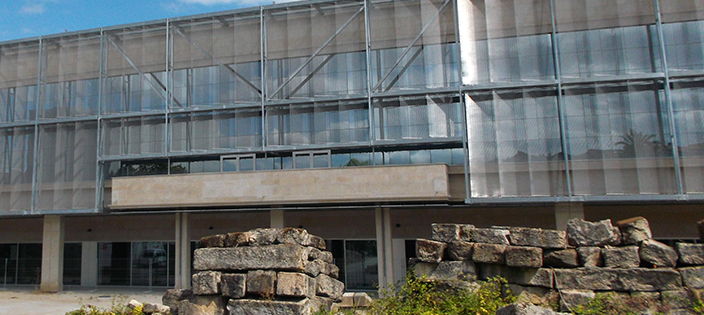 Sun protection facade with Architectural Mesh

To protect the interior against excessive sunshine and overheating, the large windows of the library in the Spanish Ourense are covered with HAVER Architectural Mesh.

For the sun protection screen the architect Jose Manuel Casabella Lopez chose the cable mesh MULTI-BARRETTE 8301. With its open area of 66 % it acts like an elegant transparent cladding.

A special feature of the eight meter high façade cladding are the diagonal wire mesh elements, which are not placed parallel to the façade. Due to the optical overlaps of the diagonal wire mesh elements, moiré effects appear at the façade cladding.

In total Haver & Boecker supplied 678 m² stainless steel wire mesh, including the proven mounting system consisting of round bars, eye bolts and pressure springs.
City
Ourense, Spain
Application
façade, sun protection
Object Type
educational institutions
Mesh Type
Architect
Jose Manuel Casabella Lopez
Project Sheet