Reference projects using HAVER Architectural Mesh
As we all know, a picture is worth a thousand words. Therefore, it is best to form your own picture of our diverse wire meshes - and let yourself be inspired by projects that have already been implemented. Each of them contains all the expertise from hundreds of projects and more than 130 years of experience in the production and processing of wire mesh. Always with the aim of achieving the best result for our customers.
In our extensive and well-stocked reference overview, you will find many successfully completed projects using HAVER Architectural Mesh. Convince yourself of the variety of applications and the quality of our wire mesh and let the projects we have already completed show you the high standards of our work.
Hibernia Tower Parking Garage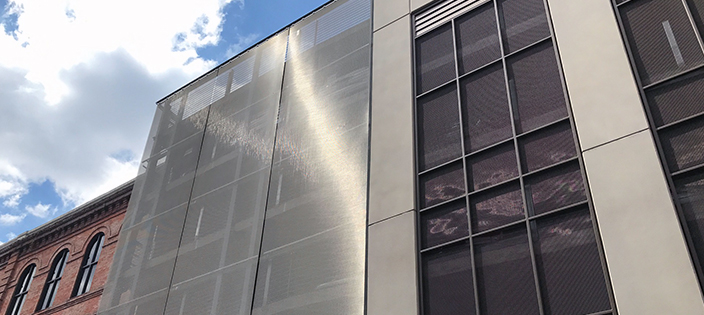 Car park cladding with HAVER Architectural Mesh

The completed car park offers 144 parking spaces for the commercial and residential tenants of the adjacent Hibernia Tower Building in the Central Business District of New Orleans.

The Architects from HCI Architecture have used HAVER Architectural Mesh for the facade cladding of the parking structure. The stainless steel mesh EGLA-TWIN 4243, with an open area of 57%, is characterized by its smooth flat surface on one side, which reflects light homogenously.

The wire mesh façade made of HAVER Architectural Mesh protects against external weather conditions and offers a high transparency and optimal ventilation of the car park interior. In addition to its transparency, ventilation and aesthetics, mesh is a favorable choice for parking due to its cost-effective installation and the long lifespan of stainless steel.

The wire mesh elements with a dimension of 12 m height and 2.70 m width were assembled by HAVER & BOECKER and supplied with the complete fastening technology consisting of tension profiles, clevis bolts and pressure springs.


City
New Orleans, United States of America
Application
façade, falling protection
Object Type
parking garages
Mesh Type
Architect
HCI Architecture
Project Sheet