Reference projects using HAVER Architectural Mesh
As we all know, a picture is worth a thousand words. Therefore, it is best to form your own picture of our diverse wire meshes - and let yourself be inspired by projects that have already been implemented. Each of them contains all the expertise from hundreds of projects and more than 130 years of experience in the production and processing of wire mesh. Always with the aim of achieving the best result for our customers.
In our extensive and well-stocked reference overview, you will find many successfully completed projects using HAVER Architectural Mesh. Convince yourself of the variety of applications and the quality of our wire mesh and let the projects we have already completed show you the high standards of our work.
Office Building Mexico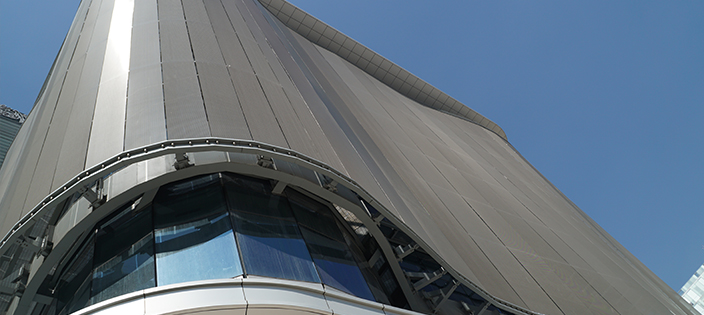 Curved facade cladding with sun protection

Highlight of the new office building in Mexico is the curved facade cladding made of HAVER Architectural Mesh EGLA-MONO 4991. The stainless steel mesh façade, which improves the thermal comfort in the interior and contributes to an environmentally friendly green building, consists of 2.400 m² wire mesh made by Haver & Boecker.
The transparent wire mesh with an open area of 54 % filers the sunlight in front of the glass façade, creating an aesthetic sun protection screen while maintain a cool, comfortable temperature in the area behind it. In particular with a high angel of incidence of sunlight, the structure of architectural mesh achieves effective shading and protects the interior from overheating during the summer. The semi-transparency of HAVER Architectural Mesh EGLA-MONO 4991 allows an abundance of natural light to flow into the building, so that the use of artificial light can be reduced during the day.
The up to 33 meter long and 3 meter wide mesh elements are attached to the substructure of the office building using the mounting system of round rods, eyebolts and pressure springs.