Reference projects using HAVER Architectural Mesh
As we all know, a picture is worth a thousand words. Therefore, it is best to form your own picture of our diverse wire meshes - and let yourself be inspired by projects that have already been implemented. Each of them contains all the expertise from hundreds of projects and more than 130 years of experience in the production and processing of wire mesh. Always with the aim of achieving the best result for our customers.
In our extensive and well-stocked reference overview, you will find many successfully completed projects using HAVER Architectural Mesh. Convince yourself of the variety of applications and the quality of our wire mesh and let the projects we have already completed show you the high standards of our work.
Bürogebäude Mexico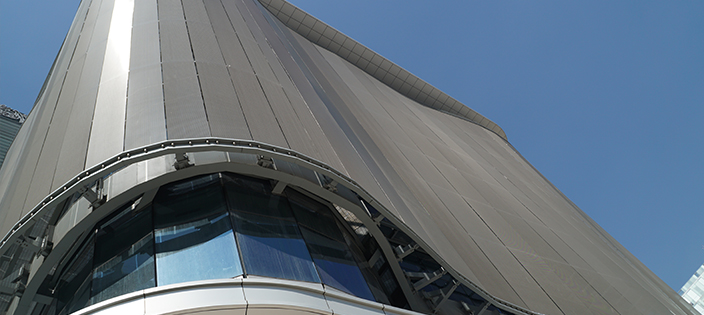 Geschwungene Fassadenverkleidung mit Sonnenschutzfunktion

Optisches Highlight des neuen Bürogebäudes in Mexico ist die geschwungene Fassadenverkleidung aus dem HAVER Architekturgewebe EGLA-MONO 4991. Die Edelstahlgewebefassade, die den thermischen Komfort im Innern des Gebäudes verbessert und somit ihren Teil zu einem umweltfreundlichen Green Building beiträgt, besteht insgesamt aus 2.400 m² Drahtgewebe von Haver & Boecker.

Das transparente Edelstahlgewebe mit einer offenen Fläche von 54 % filtert vor der Glasfassade das Sonnenlicht und trägt dadurch zu einem angenehm kühlen aber trotzdem wohnlich hellen Raumklima bei. Insbesondere bei einem hohen Einfallswinkel des Sonnenlichtes erreicht die Struktur von Architekturgeweben eine effektive Verschattung und schützt die Räumlichkeiten hinter dem Drahtgewebe vor sommerlicher Überhitzung. Dank der Semitransparenz des HAVER Architekturgewebes EGLA-MONO 4991 gelangt Tageslicht weiterhin in die Büroräume, wodurch die zusätzliche Nutzung von Kunstlicht tagsüber deutlich reduziert werden kann.

Die bis zu 33 Meter langen und 3 Meter breiten Gewebebahnen wurden mit dem bewährten Befestigungssystem aus Flachspannkanten, Gabelschrauben und Druckfedern an die Unterkonstruktion des Gebäudes angebracht.