Reference projects using HAVER Architectural Mesh
As we all know, a picture is worth a thousand words. Therefore, it is best to form your own picture of our diverse wire meshes - and let yourself be inspired by projects that have already been implemented. Each of them contains all the expertise from hundreds of projects and more than 130 years of experience in the production and processing of wire mesh. Always with the aim of achieving the best result for our customers.
In our extensive and well-stocked reference overview, you will find many successfully completed projects using HAVER Architectural Mesh. Convince yourself of the variety of applications and the quality of our wire mesh and let the projects we have already completed show you the high standards of our work.
Car Park Hôpital Civil Marie Curie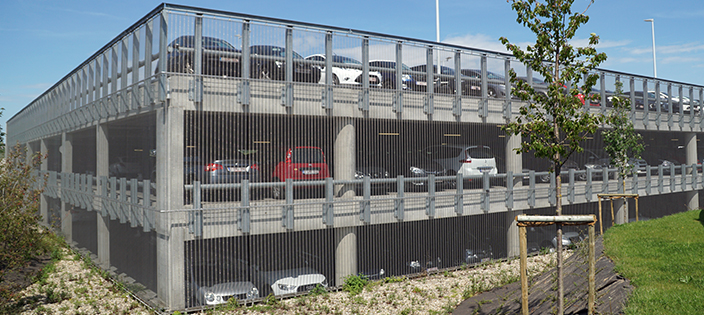 Facade cladding with HAVER Architectural Mesh DOGLA-TRIO 1010
Due to the functional and aesthetic properties of stainless steel mesh, it offers versatile fields of applications in the architecture of car parks. Architectural Mesh convinces with its noble optic and meets at the same time the highest standards of safety and stability in indoor and outdoor applications.

The Marie-Curie Hospital in Charleroi, Belgium, has a car park with a façade cladding made of HAVER Architectural Mesh. The architects from Art & Build chose the semi-transparent stainless steel mesh DOGLA-TRIO 1010, which allows with an open area of 72% natural ventilation of the car park.

The mesh elements with a height up to 7 m and a width of 3 m were supplied by HAVER & BOECKER ready for installation, complete with tensioning devices which consist of flat tension profiles, clevis screws and pressure springs.