Reference projects using HAVER Architectural Mesh
As we all know, a picture is worth a thousand words. Therefore, it is best to form your own picture of our diverse wire meshes - and let yourself be inspired by projects that have already been implemented. Each of them contains all the expertise from hundreds of projects and more than 130 years of experience in the production and processing of wire mesh. Always with the aim of achieving the best result for our customers.
In our extensive and well-stocked reference overview, you will find many successfully completed projects using HAVER Architectural Mesh. Convince yourself of the variety of applications and the quality of our wire mesh and let the projects we have already completed show you the high standards of our work.
Höffner Fürth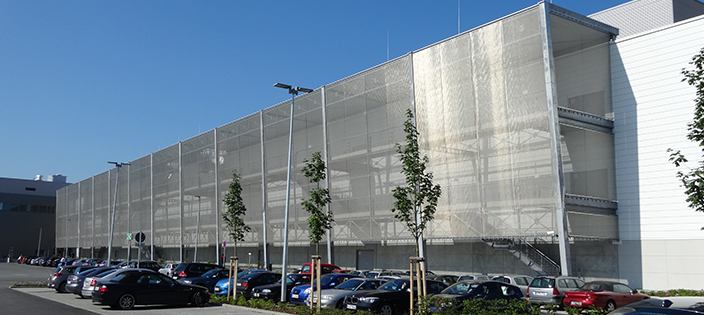 Facade cladding with HAVER Architectural Mesh
The architects from Beier Baudesign GmbH used stainless steel mesh from Haver & Boecker as façade cladding on the rear side of the shop building.

The upstreamed wire mesh façade made of architectural mesh DOKAWELL-MONO 3601 covers the escape routes, which are relocated from the inside to the outside of the building. The metal mesh is not only visually appealing; it also acts as fall protection.

Weave type DOKAWELL-MONO has a unique elegance. When combined with complimentary lighting the crimped wires produce shimmering light reflections, creating a magnificent sparkling surface.

In total 1960 m² HAVER Architectural Mesh were installed at the façade.
City
Fürth, Germany
Application
façade, falling protection
Object Type
shopping centers
Mesh Type
Architect
Project Sheet