Reference projects using HAVER Architectural Mesh
As we all know, a picture is worth a thousand words. Therefore, it is best to form your own picture of our diverse wire meshes - and let yourself be inspired by projects that have already been implemented. Each of them contains all the expertise from hundreds of projects and more than 130 years of experience in the production and processing of wire mesh. Always with the aim of achieving the best result for our customers.
In our extensive and well-stocked reference overview, you will find many successfully completed projects using HAVER Architectural Mesh. Convince yourself of the variety of applications and the quality of our wire mesh and let the projects we have already completed show you the high standards of our work.
TCO - Île de la Réunion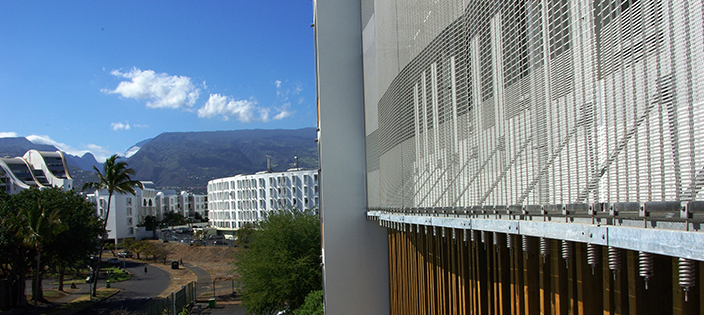 Sonnenschutzfassade mit HAVER Architekturgewebe LARGO-NOVA
HAVER Architekturgewebe vereinen Design und Funktion auf attraktive Weise und eignen sich aufgrund der semitransparenten Geometrie sehr gut als außen liegender Sonnenschutz. Sie vereinen hervorragende Tageslichtnutzung und natürliche Ventilation mit guter Durchsicht von innen.

Für die Sanierung und den Ausbau der Regionalverwaltung (TCO) der Westküste der Insel La Réunion haben sich die Architekten vom Atelier Grouard Architectes für eine Fassadenverkleidung aus HAVER Architekturgewebe entschieden. Das zu verwendende Edelstahlgewebe sollte die Fassade optisch aufwerten und gleichzeitig guten Sonnenschutz für das Bürogebäude gewährleisten.

Aus einer Vielzahl von Architekturgeweben mit unterschiedlichsten Webarten entschieden sich die Architekten für das Edelstahlgewebe LARGO-NOVA 2032. Speziell für dieses Projekt wurde es mit variierenden Maschen gewebt. Die 24 m langen Gewebebahnen besitzen im Bereich der Fenster eine größere offene Fläche als in den anderen Bereichen.

Haver & Boecker fertigte für die Fassadenverkleidung insgesamt aus 1.500 m² Edelstahldrahtgeweben 126 montagefertige Gewebe-Elemente.
City
Le Port, Île de la Réunion
Application
Fassade, Sonnenschutz
Object Type
Büro- / Geschäftshäuser
Mesh Type
Architect
Grouard Architectes
LARGO-NOVA 2032
Project Sheet