Reference projects using HAVER Architectural Mesh
As we all know, a picture is worth a thousand words. Therefore, it is best to form your own picture of our diverse wire meshes - and let yourself be inspired by projects that have already been implemented. Each of them contains all the expertise from hundreds of projects and more than 130 years of experience in the production and processing of wire mesh. Always with the aim of achieving the best result for our customers.
In our extensive and well-stocked reference overview, you will find many successfully completed projects using HAVER Architectural Mesh. Convince yourself of the variety of applications and the quality of our wire mesh and let the projects we have already completed show you the high standards of our work.
Hôtel de la Communauté de Mourenx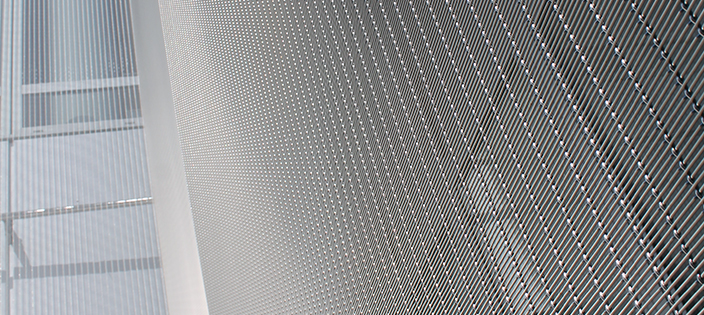 Sun protection with HAVER Architectural Mesh
The architect Gilles Bouchez Architecture redesigned the atrium of the French hotel "Hôtel de la Communauté de Mourenx" with the architectural wire mesh EGLA-MONO 4391 and EGLA-MONO 4211 by Haver & Boecker. The flat surface on one side of the wire mesh EGLA-MONO creates a reflection across the full plane on the façade. Due to the rectangular opening and the special crimps lend the wire mesh got a good stability.

The wire mesh cladding should not only enhance the outdoor area of the atrium, it should also act as an effective sun screen. Due to its open area the semi-transparent stainless steel wire meshes are suitable as effective sunscreens. The woven wire mesh can be utilized to filter sunrays and create a comfortable and fresh light internal climate.
City
Mourenx, France
Application
façade, building redevelopment, sun protection
Object Type
office buildings
Mesh Type
Architect
Project Sheet