Reference projects using HAVER Architectural Mesh
As we all know, a picture is worth a thousand words. Therefore, it is best to form your own picture of our diverse wire meshes - and let yourself be inspired by projects that have already been implemented. Each of them contains all the expertise from hundreds of projects and more than 130 years of experience in the production and processing of wire mesh. Always with the aim of achieving the best result for our customers.
In our extensive and well-stocked reference overview, you will find many successfully completed projects using HAVER Architectural Mesh. Convince yourself of the variety of applications and the quality of our wire mesh and let the projects we have already completed show you the high standards of our work.
Parkhaus Crocker Park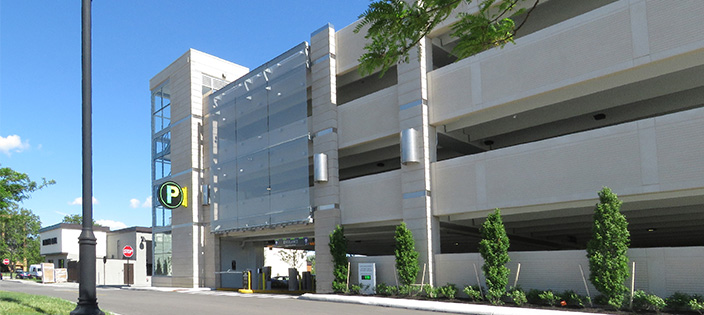 Fassadenverkleidung mit HAVER Architekturgewebe

Vom Architekturbüro Bialosky Cleveland wurde das Lifestyle-Zentrum Crocker Park in Westlake, Ohio entworfen und 2004 eröffnet. In erster Linie ist Crocker Park ein Einkaufszentrum mit zusätzlichen Erholungs- und Sozialflächen, das an Anlehnung an eine französische Kleinstadt geplant wurde.

Mittlerweile umfasste es auf 185.000 m² 650 High-End Wohneinheiten, 131 Geschäfte, 26 Gastronomiebetriebe und diverse Büroflächen. Mit all seinen Geschäften und Lokalitäten lockt Crocker Park jährlich mehr als 16 Millionen Besucher nach Westlake.

2015 wurde von Bialosky Cleveland ein neues Parkhaus mit einer Fassadenverkleidung aus HAVER Architekturgewebe errichtet. Das Parkhaus K liegt in prominenter Lage an der nordöstlichen Ecke des Crocker Parks und dient primär dem Unterhaltungsviertel mit seinem Theater, den Hotels und Restaurants als Parkmöglichkeit.
Im Bereich der Ein-/Ausfahrt wurde ein Teil der Fassade mit dem HAVER Architekturgewebe EGLA-MONO 4631 verkleidet. Gewebe der Webart EGLA-MONO werden aufgrund ihres homogenen Erscheinungsbildes mit großflächigen Lichtreflektionen sehr gerne zur Fassadengestaltung eingesetzt.

HAVER Architekturgewebe überzeugen durch eine edle Optik und erfüllen dabei höchste Ansprüche an Sicherheit und Stabilität. Das Metallgeflecht aus Edelstahl ist pflegeleicht, wartungsfrei, nicht brennbar und schützt den Innenraum vor zu starker Sonneneinstrahlung. Gleichzeitig gewährleistet das Gewebe EGLA-MONO 4631 mit einer offenen Fläche von 58 % die notwendige Belüftung der dahinter liegenden Parkflächen.

Die ca. 9x3 m langen Gewebebahnen wurden mit dem bewährten Befestigungssystem aus Flachspannkante, Gabelschrauben und Druckfedern an die Fassade angebracht.
City
Westlake, Ohio, Vereinigte Staaten von Amerika
Application
Fassade
Object Type
Parkhäuser
Mesh Type
Architect
Project Sheet