Reference projects using HAVER Architectural Mesh
As we all know, a picture is worth a thousand words. Therefore, it is best to form your own picture of our diverse wire meshes - and let yourself be inspired by projects that have already been implemented. Each of them contains all the expertise from hundreds of projects and more than 130 years of experience in the production and processing of wire mesh. Always with the aim of achieving the best result for our customers.
In our extensive and well-stocked reference overview, you will find many successfully completed projects using HAVER Architectural Mesh. Convince yourself of the variety of applications and the quality of our wire mesh and let the projects we have already completed show you the high standards of our work.
Maison des Sports Talence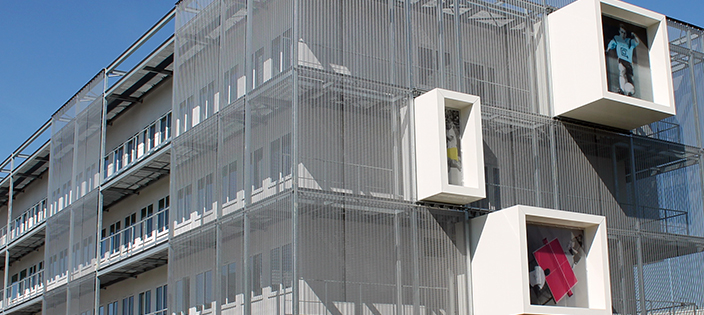 Façade cladding with HAVER Architectural Mesh.
The Maison des Sports is located in the heart of the French town Talence. The sports university was designed by the architect´s office JL Faye. The architects wanted to give the building a modern look – inside and outside.

Striking features of the façade are the overhanging illuminated boxes where portraits of athletes from different sports are displayed. Around these boxes custom-fit stainless steel wire mesh from HAVER & BOECKER were installed.

The architects chose the stainless steel cladding with HAVER Architectural Mesh LARGO-NOVA 2034 for the exterior façade. The combination of round and flat wires gives the mesh type a very extensive appearance, which reflects light homogenously. With an open area of 58% the mesh also acts as effective sun shading for the premises behind it.

In total 1.471 m² of HAVER Architectural Mesh are used to clad the façade of the Maison des Sports.