Reference projects using HAVER Architectural Mesh
As we all know, a picture is worth a thousand words. Therefore, it is best to form your own picture of our diverse wire meshes - and let yourself be inspired by projects that have already been implemented. Each of them contains all the expertise from hundreds of projects and more than 130 years of experience in the production and processing of wire mesh. Always with the aim of achieving the best result for our customers.
In our extensive and well-stocked reference overview, you will find many successfully completed projects using HAVER Architectural Mesh. Convince yourself of the variety of applications and the quality of our wire mesh and let the projects we have already completed show you the high standards of our work.
Montes Urales 125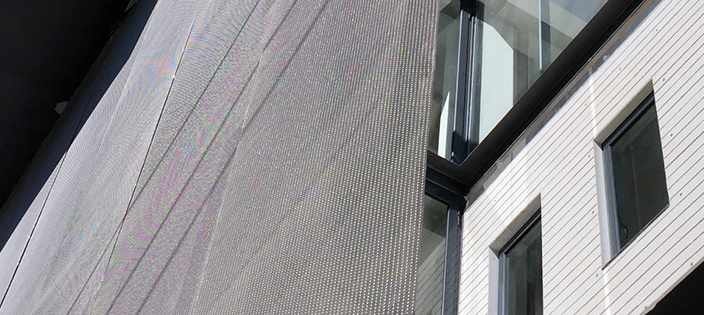 Beautiful sunscreen with Architectural Mesh.

The former residential building from 1950 is located in Mexico, more precisely on the thoroughfare Montes Urales - between Paseo de la Reforma and Palmas. The architects of Archetonic recognized the potential of the building and they had the vision to rebuild it into their company´s headquarters. It was important to them to preserve the house in its original proportions and to give it added value and a cutting-edged look.

For the façade of the building, the architects searched for a suitable material that looks visual appealing and offers at the same time good <link protection with haver architectural>sun protection. The architects decided for a metal wire mesh cladding made of Architectural Mesh EGLA-MONO 4991 by HAVER & BOECKER.

Due to the smooth surface the metal mesh weave type <link type>EGLA-MONO has got a flat and homogeneous appearance. The HAVER Architectural Mesh EGLA-MONO 4991 is a filigree wire mesh with semi-transparency, that offers good views from inside to outside. In addition to a very nice appearance the wire mesh EGLA-MONO 4991 ensures - with an open area of 54 % - good sun protection.

170 m² of stainless steel wire mesh EGLA-MONO 4991 decorates the main façade with elements of 1.70 m width and up to 9 m length. HAVER & BOECKER supplied ready to install mesh elements, including the fixing technology of tension profiles, clevis screws and pressure springs.
City
Mexico City, Mexico
Application
façade, sun protection, building redevelopment
Object Type
office buildings
Architect
Project Sheet