Reference projects using HAVER Architectural Mesh
As we all know, a picture is worth a thousand words. Therefore, it is best to form your own picture of our diverse wire meshes - and let yourself be inspired by projects that have already been implemented. Each of them contains all the expertise from hundreds of projects and more than 130 years of experience in the production and processing of wire mesh. Always with the aim of achieving the best result for our customers.
In our extensive and well-stocked reference overview, you will find many successfully completed projects using HAVER Architectural Mesh. Convince yourself of the variety of applications and the quality of our wire mesh and let the projects we have already completed show you the high standards of our work.
Médiathèque Les Halles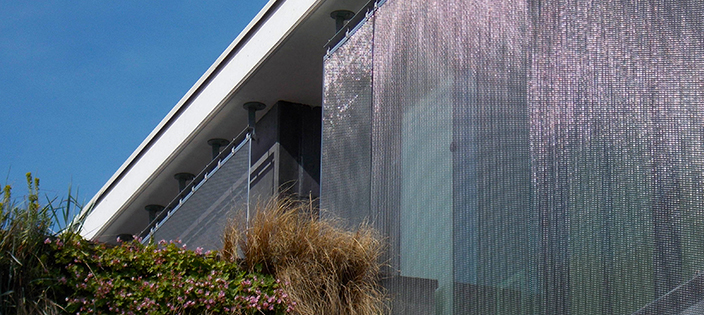 Sonnenschutzfassade mit HAVER Architekturgewebe
Das ursprüngliche Gebäude des Kulturzentrums "Médiathèque Les Halles" hat seinen Ursprung aus dem achtzehnten Jahrhundert. Aufgrund der Einsturzgefahr der alten Bausubstanz entschied man sich, das Bestandsgebäude abzureißen und einen Neubau zu errichten. Der von Architekturbüro ESPACE ARCHITECTURE geplante Baukörper weist einerseits großzügige Glasfronten auf, jedoch konnten andererseits auch einige Teile der historischen Bausubstanz erhalten und in das neue Gebäudekonzept integriert werden. So finden sich zum Beispiel Teile der alten Steinböden, Wände sowie Reste des Außenmauerwerks im Neubau der Mediathek wieder.

Ein Teil der modernen Glasfassade erhielt eine Verkleidung aus dem HAVER Architekturgewebe EGLA-TWIN 4243. Architekturgewebe bieten nicht nur durch ihre Ästhetik sondern auch durch ihre funktionalen Eigenschaften vielseitige Einsatzmöglichkeiten. Das hier als dekorativer Sonnenschutz eingesetzte Gewebe EGLA-TWIN 4243 erzeugt aufgrund der einseitig glatten Oberfläche bei Sonnenschein sehr flächige Lichtreflektionen. Mit einer solaren Transmission von 40% bei einem Sonneneinfallswinkel von 60° bietet das Gewebe zudem einen guten Sonnenschutz. Trotz der effizienten Verschattung gewährt der großflächig gespannte Sonnenschutz aufgrund des frontalen Blickwinkels weiterhin eine gute Transparenz für den Blick nach draußen.
City
Faulquemont, Frankreich
Application
Fassade, Sonnenschutz
Object Type
Bildungseinrichtungen, Kultur- / Kongresszentren
Mesh Type
Architect
Project Sheet