Reference projects using HAVER Architectural Mesh
As we all know, a picture is worth a thousand words. Therefore, it is best to form your own picture of our diverse wire meshes - and let yourself be inspired by projects that have already been implemented. Each of them contains all the expertise from hundreds of projects and more than 130 years of experience in the production and processing of wire mesh. Always with the aim of achieving the best result for our customers.
In our extensive and well-stocked reference overview, you will find many successfully completed projects using HAVER Architectural Mesh. Convince yourself of the variety of applications and the quality of our wire mesh and let the projects we have already completed show you the high standards of our work.
WU Vienna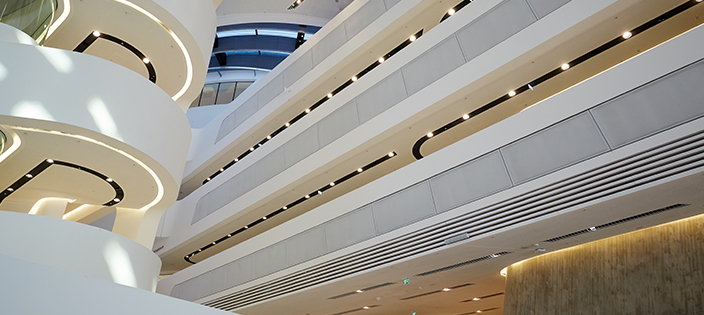 HAVER Architectural Mesh improve acoustics.

The new university campus in Vienna is currently the largest new university building in Europe. Based on the master plan by the Viennese architect BUSarchitektur six buildings, planned by six different international architects, are located on 100,000 m².
The core of the new campus is the LLC – Library & Learning Center, designed by the architect Zaha Hadid. The building complex includes the main library, the ballroom, the Study Service Center, a café and the Centre for Studies Abroad.
Inside the building 390 m² HAVER Architectural Mesh DETENTION 7016 are used as wall cladding. The white painted mesh elements at the atrium of the building are fixed to Frames.
Due to the structure made of round wires, which scatter sounds in different directions, wire mesh is good for optimizing acoustics. Together with the absorber material the wall covering with HAVER Architectural Mesh improve the room acoustics significantly.


Architect:
Zaha Hadid
BUSarchitektur
Photos:
Foto Peter Melbinger
City
Vienna, Austria
Application
wall, acoustic
Object Type
educational institutions
Mesh Type
Architect
Project Sheet