Reference projects using HAVER Architectural Mesh
As we all know, a picture is worth a thousand words. Therefore, it is best to form your own picture of our diverse wire meshes - and let yourself be inspired by projects that have already been implemented. Each of them contains all the expertise from hundreds of projects and more than 130 years of experience in the production and processing of wire mesh. Always with the aim of achieving the best result for our customers.
In our extensive and well-stocked reference overview, you will find many successfully completed projects using HAVER Architectural Mesh. Convince yourself of the variety of applications and the quality of our wire mesh and let the projects we have already completed show you the high standards of our work.
Stair Tower Les Arcs 1800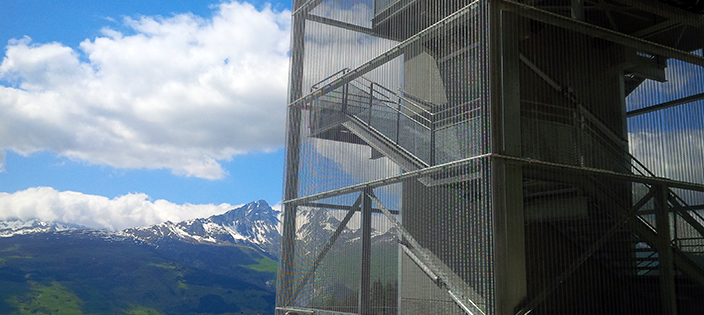 Transparent staircase cladding made of HAVER Architectural Mesh.

Located towards Mont Blanc, Les Arc is one of the most famous ski resorts in the French Alps. Above the Isère valley, the ski resort, surrounded by forests and precipices, is comprised by 4 villages: Les Arcs 1600, Les Arcs 1800, Les Arcs 1950 and Les Arcs 2000.

As a connection between the new indoor swimming pool in Les Arcs 1800, a new elevator and stair tower was designed by the architect Yves de Preval. The tower received a wire mesh cladding from HAVER Architectural Mesh DOGLA-TRIO 1033. The stainless steel wire mesh DOGLA-TRIO is a robust meshtype, which gets its structure from clusters of vertical wires. In close up DOGLA-TRIO looks very robust but when viewed from a distance it appears as a delicate fabric.

Depending on sun reflection and viewing angles, the semi-transparent cladding made of wire mesh DOGLA-TRIO 1033 appears from the outside opaque or transparent. And from the inside, the wire mesh with its open area of 67 % does not affect the stunning panoramic view of the Alps.

HAVER & BOECKER supplied in total 473 m² of architectural wire mesh cladding for the stair tower in Les Arcs 1800.
City
Les Arcs, France
Application
façade, balustrade, falling protection
Object Type
bridges / tunnel
Mesh Type
Architect
Yves de Preval
Project Sheet