Reference projects using HAVER Architectural Mesh
As we all know, a picture is worth a thousand words. Therefore, it is best to form your own picture of our diverse wire meshes - and let yourself be inspired by projects that have already been implemented. Each of them contains all the expertise from hundreds of projects and more than 130 years of experience in the production and processing of wire mesh. Always with the aim of achieving the best result for our customers.
In our extensive and well-stocked reference overview, you will find many successfully completed projects using HAVER Architectural Mesh. Convince yourself of the variety of applications and the quality of our wire mesh and let the projects we have already completed show you the high standards of our work.
Teknopark Istanbul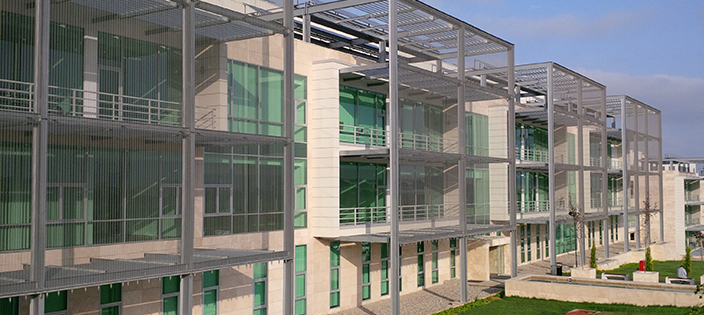 Technologiepark in der Türkei setzt auf IMAGIC WEAVE® HO
Der auf der asiatischen Seite Istanbuls gelegene Technologiepark "Teknopark Istanbul", wird nach seiner endgültigen Fertigstellung auf einer Fläche von 950.000m² verschiedene Forschungs- und Endwicklungslabore von rund 1.000 einheimischen und ausländischen Unternehmen beherbergen.

Um das erste Gebäude des Technologieparks in Istanbul attraktiv in Szene zu setzen entschied sich das Architekturbüro Bütüner Mirmarlik aus Ankara für eine Fassadenverkleidung mit insgesamt 2.700 m² Architekturgewebe, zuzüglich 52,5 m² der transparenten Medienfassade IMAGIC WEAVE®, die zur Außendarstellung verwendet wird.

IMAGIC WEAVE® hat für jede Projektanforderung die passende Lösung. Durch die Auswahl an unterschiedlichen Gewebesorten, variablen Abständen der Bildpunkte und zwei verschiedenen LED-Technologien lässt sich die transparente Medienfassade IMAGIC WEAVE® optimal und individuell an jedes Projekt anpassen.

Im Teknopark Istanbul kam das Medienfassaden-System IMAGIC WEAVE® HO mit einem Abstand der LED-Bildpunkte von 40 x 78 mm und dem Architekturgewebe DOKA-BARRETTE 8920 zum Einsatz. IMAGIC WEAVE® HO ist die Kombination von HAVER & BOECKER Architekturgeweben und THT-LED-Profilen. Durch die enorme Helligkeit der THT-LEDs ist dieses System besten für den Einsatz bei Tageslicht geeignet. Die schlanken LED-Profile sind rückseitig an das Metallgewebe DOKA-BARRETTE 8920 angebracht, so dass das homogene und transparente Erscheinungsbild der Gewebefassade jederzeit beibehalten wird. Die unauffällige Verkabelung der einzelnen LED-Profile ist von außen nicht sichtbar und mit der hohen Systemtransparenz von 58 % bleibt der ungetrübte Blick von innen nach außen erhalten.

Auf insgesamt 2.700 m² wurde zusätzlich das Seilgewebe MULTI-BARRETTE 8123 montiert, das mit einer offenen Fläche von 64 % als Sonnenschutz für die dahinterliegenden Büroräume fungiert.

Während des Projektes unterstützte HAVER & BOECKER den Kunden unter anderem bei der technischen Detailplanung. Neben der Montageeinweisung und der Inbetriebnahme der Medienfassade wurden zusätzlich theoretische und praktische Schulungen durch H&B Mitarbeiter vor Ort durchgeführt.
City
Istanbul, Türkei
Application
Fassade, Sonnenschutz
Object Type
Büro- / Geschäftshäuser
Mesh Type
Architect
Project Sheet